"Un petit coin de paradis" - this is how the French refer to Le Moulin de Chaquel.
It truly is a little corner of paradise, with over nine acres of nature reserves, meadows, woods and streams.
It is a place to relax, chill out and get back to nature. The only sounds you'll hear are the wind in the trees, the water tumbling over the rocks and the birds singing.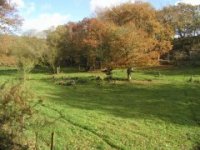 Le Moulin de Chaquel is situated in a tranquil, wooded valley just a couple of miles from Pluvigner, which is on the D768 between Baud & Auray and is about 160k/100m from St Malo.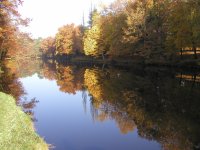 We are just south of the beautiful and extensive Forêt Domaniale de Camors (lakes, walking and wildlife) .
Detailed directions and maps are available on [Maps - How to find us].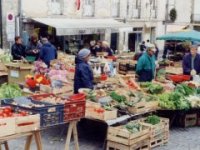 Our nearest town is Pluvigner - population 5600 - supermarkets, boulangeries, charcuteries, bars, restaurants, etc. We are just 15k north of Auray and the Golfe du Morbihan (beautiful inland sea full of islands) and the magical Riviére d'Etel is only 10k to the south west of us.
[Pictures of Auray Market - It's on every Monday)]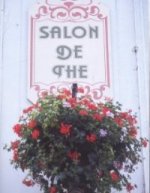 We have easy access to the coast with its many fine sandy beaches (swimming, windsurfing, parasurfing, etc.), the extensive local forests and many local lakes and rivers (fishing and boating). The Golfe has 365 islands and there are boat trips to many of these as well as out to the offshore islands of Belle Ile and Ile de Groix.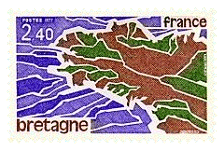 There are just too many local attractions to list them all here! See [Local Activities] for more details.
Anywhere in Brittany is within a day trip.
Activities:
Walking, cycling, bird watching, painting, fishing (sea, lakes and rivers), boating, canoeing and sailing.
Local history and architecture - prehistoric sites, preserved villages, churches, Calvary crosses and fountains.
Art galleries and museums.
A superb choice of local gastronomic delights (Fruits de Mer a speciality).
All these make Le Moulin de Chaquel a truly ideal location.
Le Moulin de Chaquel

56330 CAMORS

FRANCE
Please get in touch to offer comments.
Telephone: [00 33 or 0] 2 97 39 27 99
Le Moulin de Chaquel 56330 Camors FRANCE